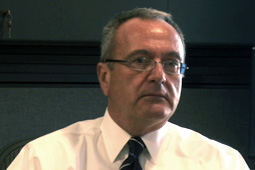 Executive Director BAM
Joseph V. Melillo, BAM's executive producer since 1999, is responsible for the institutional artistic direction of BAM. In the years that he has held this role, BAM has enjoyed increases in both programming and audience attendance in its Harvey Lichtenstein Theater, Howard Gilman Opera House, Rose Cinemas, and BAMcafé. In addition to continued critical acclaim, in 2003 BAM was awarded a special OBIE Award in recognition of a body of work in international programming and a special Drama Desk Award for bringing works of distinction from around the world to New York audiences. Over the years, Melillo has fostered the work of emerging artists such as choreographer John Jasperse, director Anne Bogart, and musician/composers David Lang, Michael Gordon and Julia Wolfe while continuing to provide an artistic home for BAM regulars such as choreographer Pina Bausch, directors Peter Brook and Sam Mendes, and composer John Adams.
Prior to his current role, Melillo served as BAM's producing director, following a six-year tenure as founding director of the Next Wave Festival. During the first festival, Melillo produced the premiere productions of The Photographer/Far From The Truth and The Gospel at Colonus. He worked closely with Philip Glass and Robert Wilson on the first revival of Einstein on the Beach in 1984, a production Melillo considers a professional benchmark. In addition to these productions, Melillo's hand can be seen in broad-ranging Next Wave productions such as The Mahabharata and Nixon in China.
As part of the 2001 Next Wave Festival, Melillo produced a multi-disciplinary celebration of Australian art and culture entitled Next Wave Down Under, which included music, theater, dance, film, and visual arts. In the fall of 2002, he produced BAM's critically acclaimed 20th Next Wave Festival, which featured returning artist like Sankai Juku, Meredith Monk, and Steve Reich as well as works by festival newcomers such as Osvaldo Golijov, Sasha Waltz, and Tan Dun. As BAM's Spring Seasons have grown in recent years, Melillo has developed innovative and artistically wide-ranging projects such as the complete Monteverdi opera cycle and developed artistic partnerships with companies such as the Donmar Warehouse and the Mark Morris Dance Group.
In addition to his work at BAM, Melillo has had extensive experience in artistic programming, producing, and general management. In 1990, Melillo served as one of the artistic directors of the second New York International Festival for the Arts. He was general manager of the 1982 New World Festival of the Arts in Miami; theater program director of Foundation for the Extension and Development of the American Professional Theater (FEDAPT); marketing director for the Walnut Street Theater in Philadelphia; thematic specialist in contemporary American Theater for the Institute of International Education, Department of State, USIA; and producing director of the Chelsea Theater Center of New York. He was named a Chevalier (1999) and an Officier (2004) of the French Legion of Honor. Also in 2004, Melillo was awarded an honorary OBE for his outstanding commitment to British performing arts in America.
Melillo currently serves on the faculty of the Brooklyn College Graduate Program in Arts Management. He has served on the boards of directors for the Association of Performing Arts Presenters and En Garde Arts and has served as a panelist for the National Endowment of the Arts Dance Program and the New York State Council on the Arts. Most recently, he served as Panel Chair of the Pew Fellowships in the Arts 2003 Awards and currently serves on the Wexner Center International Arts Advisory Council. Melillo earned a Bachelor of Arts degree in English and Theater at Sacred Heart University in Bridgeport, Connecticut and a Masters of Fine Arts in Speech and Drama at Catholic University of American in Washington, DC.