From a rehearsal room in Sydney through to opening night in New York, a company of actors reveals the magic and struggle of creating theatre.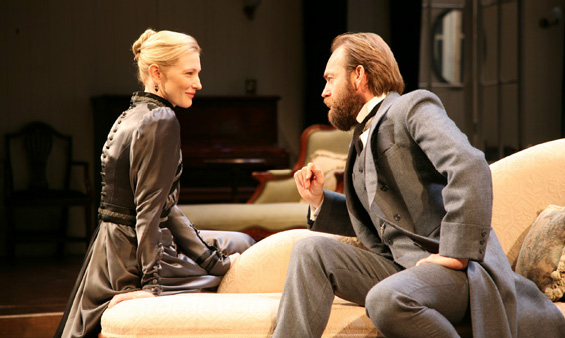 Within the world of theatre the rehearsal room is a sacred space – the private domain where boundaries are pushed, risks are taken, mistakes made, vulnerabilities exposed and, at its very best, magic created. It is not a place into which the public is often, if ever, invited. Until now.
In the Company of Actors is a documentary featuring an ensemble of Australia's finest actors, Cate Blanchett, Hugo Weaving, Anthony Weigh, Justine Clarke, Aden Young, Julie Hamilton and Annie Byron, as they prepare to perform the Sydney Theatre Company's production of Hedda Gabler, at the prestigious Brooklyn Academy of Music in New York.
With only five weeks until Opening Night the demanding rehearsal process begins. They all feel the enormous weight of expectation placed upon them. The New York season is totally sold out and Cate Blanchett's photograph is all over town.
In raw and intimate detail the film takes the audience behind the curtains to observe the actors immersed in the creative process. We discover that presenting a seemingly effortless performance is a complex, detailed, technical and exhaustive process, with the director and writer and their teams of artists and technicians working 18 hour days at high levels of intensity. As we enter their world, we feel and understand their deeply ingrained love of theatre and their passion for telling stories.
The Director of the play, Robyn Nevin is a perfectionist, paying great attention to every detail – every word is analysed and questioned, every move and gesture blocked until perfect. In a bold departure from tradition, Nevin has commissioned a new and modern interpretation of the play from Australian writer Andrew Upton. How will a reputedly sophisticated and highly critical New York audience receive this adaptation in an Australian voice?
After three weeks in the sweltering heat of the Sydney rehearsal room, the cast and crew fly out to New York, to the bitter cold of a Brooklyn winter. The actors have only two weeks left in which to hone their performances in new and unfamiliar surroundings, before exposing their own version of Henrik Ibsen's classic.
In the Company of Actors observes the highly collaborative nature of theatre as the production gradually takes shape. The production itself becomes a major character in the film, as it is pushed and pulled from all creative directions.
Opening night looms closer. The intensity increases. Nerves entrap the cast. As their 5-minute call is announced over the dressing room speaker, the actors scramble for their positions in the wings. The capacity audience eagerly waits for the play to begin. The house lights go down. The actors are ready. The stage manager calls her first direction:
"Sound cue one, and Cate, Go."